SINGAPORE — As Singapore prepares for the safe resumption of sports activities amid the COVID-19 pandemic, the government will commit $20 million to restore sports participation in the city-state.
The fund will be under the "Bring Sport Back" initiative to facilitate the reintroduction of mass participation events, ramp up sports programmes, and optimise facilities and play spaces.
The move was announced by Edwin Tong, Minister for Culture, Community and Youth, during the debate on his ministry's spending plans in Parliament on Thursday (10 March).
In addressing the need to strengthen the arts, heritage and sports sectors under his ministry's purview, Tong said, "The pandemic has underscored just how important these pieces are. Hence, when Singaporeans interact less, when our young people stop playing sports with each other, when Singaporeans don't enjoy cultural and community events together, the bonds that bind us weaken.
"The long-term effects, if not addressed, may erode our sense of 'us' in years to come, and we will suffer a deficit in social trust. So in these unprecedentedly difficult times, we will redouble efforts to replenish and fortify the connections that bring us together."
Sport Singapore (SportSG) will kick-start mass participation events for individual sports such as cycling, triathlon, swimming and running, as well as popular team sports such as football, badminton and tennis. These events will target physical participation of 1,000 to 3,000 persons per event, and will be augmented with virtual participation.
The sports governing body will also be opening a grant call to fund such events at up to $50,000 per award. The grant call will be rolled out from March, and is intended to support about 40 blended events or festivals over the year.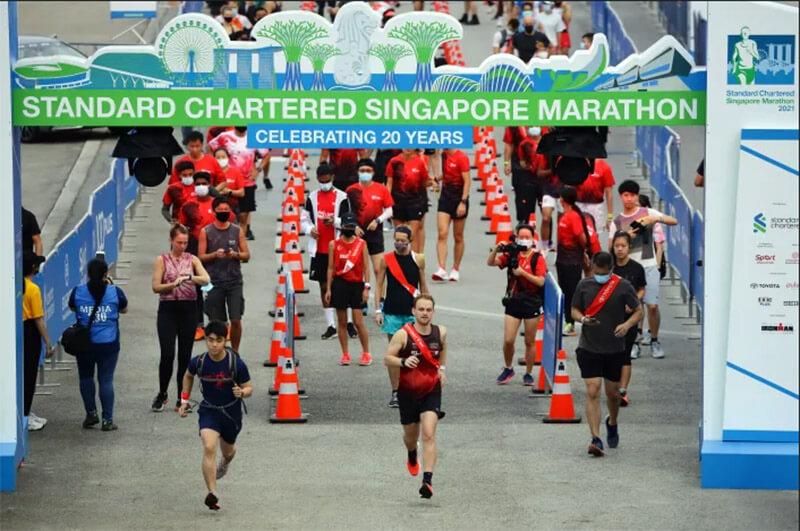 SportSG will also be providing more competition opportunities for sports-goers These include launching the ActiveSG Cup for football and basketball for participants aged 13 to 19; introducing ActiveSG leagues for athletics, canoeing, tennis, badminton, basketball and volleyball; and starting community-based leagues for all age groups at ActiveSG sports centres and precincts.
Likewise, ActiveSG will be ramping up more opportunities to take part in programmes at its academies and clubs. These efforts include rolling out new programmes and practice zones for street dancing from April; expanding its badminton, table tennis and gymnastics academies in various locations; and boosting the capabilities for ongoing academies such as football, canoeing and water polo.
Setting up of Para Sport Academy
From this year, the ActiveSG academies and clubs will also introduce the Para Sport Academy, expected to involve 500 participants from different disability groups across 10 sports.
The first phase of the rollout of the academy, which will begin this month, will include sports such as cerebral palsy football, para canoe, para athletics, wheelchair basketball, wheelchair tennis and para swimming.
SportSG will establish an advisory panel for the Para Sport Academy – led by Eric Chua, Parliamentary Secretary for the Ministry of Culture, Community and Youth (MCCY) – to advise on the development ecosystem for para sports.
"Through sports, we can empower persons with disabilities in deeply profound ways to help them realise their full potential, and raise their visibility and prominence in society," Tong said.
"For many para-athletes, their stories testify to the value of sports in Singapore, playing a pivotal part in building an inclusive society. The Para Sport Academy brings us one step further, ensuring our para-athletes have an equal platform and as much opportunity as any other, to scale the pinnacle of sporting excellence."
Meanwhile, MCCY will extend the One Team Singapore Fund for another five years, to catalyse support for high-performance sports areas for elite Team Singapore (TeamSG) athletes.
A TeamSG Cares platform will be set up for past and present TeamSG athletes to tap on grants to start ground-up initiatives to serve the community.
Extra $12 million to Arts and Culture Resilience Package
MCCY has also planned for the safe resumption of arts and cultural activities, to allow more events, audience and participants, as well as to simplify safe management measures for performers and crew.
It will add $12 million to the $75 million Arts and Culture Resilience Package to continue safeguard livelihoods and key capabilities in the arts and culture industry. The additional funding will go towards extending subsidies for venue-hire costs from April to June 2022, as well as being incorporated into the grant schemes for National Arts Council (NAC) and National Heritage Board (NHB).
MCCY, NAC and NHB will continue to work with the arts and culture community to help them become economically sustainable during and beyond the pandemic.
The three authorities have launched an Arts and Culture Digital Roadmap to promote more widespread digital adoption among arts and culture organisations and practitioners. They will also work on initiatives to help self-employed persons – who make up about half of the arts and culture workforce – develop their capabilities and industry practices, as well as pilot new ways to create value in the arts sector and beyond.
Arts and culture spaces such as 45 Armenian Street will be developed to keep up with emerging trends and better meet the needs of arts and culture practitioners, thereby enhancing their longer-term sustainability.